Tuscany Region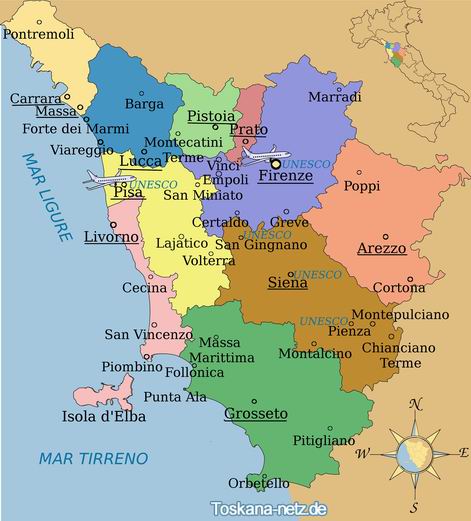 Tuscany is divided into 10 provinces: Firenze, Arezzo, Grosseto, Livorno, Lucca, Massa-Carrara, Pisa, Pistoia, Prato, Siena. Each of the regions is unique despite the geographical proximity. Curious adventurers will be surprised by the variety of the opportunities.
Beach tourism in Tuscany. The resorts of Versilia in the province of Lucca are the most famous beach tourism destination of Tuscany. Besides, there are a lot of large and small resorts affordable for people of different income level on the coasts of the provinces of Pisa, Livorno and Grosseto.
Sightseeing tourism in Tuscany. Tuscany is the motherland of the Renaissance. So it comes no surprise that there is no way to get acquainted with all masterpieces of that great period during just one or a couple of tours. The main sites of the Renaissance are concentrated in the provinces of Florence, Siena, and Pisa. Masterpieces of architecture and painting have been preserved in the provinces of Lucca, Prato, and Arezzo.
Long ago the Etruscans used to live on the territory of Tuscany. Traces of their presence, burial mounds and necropolises, have been kept mainly in the provinces of Livorno, Pisa, and Grosseto. Later, the Etruscans assimilated with the Roman conquerors. You can see fragments of their powerful civilization, such as ruins of defensive curtain walls, luxurious villas, and terms, everywhere in Tuscany.
Eventful history of Tuscany is not only kept in museums. It is revived while traditional festivals. Many cities and towns of Tuscany hold special costumed events which dramatize historic events. By visiting them, you can learn more about the culture of the region.
Each Tuscan province has its own gastronomic traditions. Cuisine and wines of Tuscany are a significant part of sightseeing tourism in Tuscany.
Active recreation in Tuscany. Those who like active sports will find various kinds of water and land sports in all Tuscan provinces.
Health-improving recreation in Tuscany. You will take a climate-therapy course and will be able to choose various beauty and health treatment on the sea resorts of Tuscany in the provinces of Lucca, Pisa, Livorno, and Grosseto. Thermal and mineral resorts of Tuscany in the provinces of Pistoia, Livorno, and Grosseto will help to treat more serious health conditions.
Tuscany is a very popular agritourism destination due to a good ecological situation. Wild purity of nature has preserved especially well on the vast territories of the Maremma in the province of Grosseto.